Lille kvalitetsopdræt af dværgschnauzer sort/sølv. Breeder of high quality Miniature Schnauzer Black/Silver. Hvalpe, hvalpeliste, schnauzer, puppies, kennel, dwergschnauzer, zwergschnauzer,


Hassanhill's In To The Light [Dustin]
S17456/2002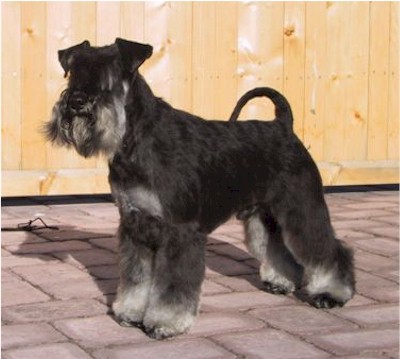 Dustins homepage
Stamtavle (pedigree)
Race / Breed
Født / Born
Køn / Sex
Opdrætter / Breeder
Dværgschnauzer sort/sølv
Miniature Schnauzer Black/Silver
20. jan. 2002
M
Bo & Corinne Skalin, Sverige
Ejer/owner: Carsten & Helle Bang Jensen, Sverige
Far linie [Sire]
Art Deco Unclesam
S53751/96
SV-96, SUCH, FINUCH
Farfar
SireSire
Rampage's Rare Commodity
AKCSBRM55875
INTCH, BELGCH, HOLLCH, WW-95
Farmor
SireDam
Bandsman's Chimney Sweep
AKCSBRM65852
INTUCH, WW-95
Farfars far
SireSireSire
Repitition's Justice
AKCSBRM1659
AMCH
Farfars mor
SireSireDam
Rampage's Positive Attitude
AKCSBRB183729
AMCH
Farmors far
SireDamSire
Bandsman's Newprint
AKCSBRB99309
AMCH
Farmors mor
SireDamDam
Bandsman's Ya Know What I Mean
AKCSBRL997119
.
Mor linie [Dam]
Hassanhill's Dressed For Success
S19430/2000
SUCH
Morfar
DamSire
Hassanhill's Williams
S17890/98
NORDV-99, NORDUCH, DKUCH
Mormor
DamDam
Hassanhill's Stars And Stripes
S27114/97
NORDUCH
Morfars far
DamSireSire
Bandsman's Why Not
AKCSBRM102410
AMCH, LUXCH
Morfars mor
DamSireDam
Art Deco Usbonny
S53752/96
SUCH, FINUCH
Mormors far
DamDamSire
Art Deco Unclesam
S10366/94
SV-96, SUCH, FINUCH
Mormors mor
DamDamDam
Hassanhill's Nur-Ul-Ain
S10366/94
SUCH

Annelise Lange
Gefionsvej 38, Skibbild - DK7480 Vildbjerg - Danmark
Phone: +45 9722 2447 Mobil +45 2025 3111
E-mail:

Skriv i min Gæstebog
Læs i min Gæstebog




Opdateret d. 13.8.2011


© 1997-02 Designed by Marianne Hansen